When the powers that be in Athens decided to end the era of mediocrity in the University of Georgia football program by firing Mark Richt, many, including DaKidd, felt it was a mistake.
Why would you fire a guy that averaged between 9 and 10 wins a year??? Simple, you want to compete for championships!!!
Richt 'seems' like a good guy…with his southern drawl and his 'aw shucks' sort of attitude. The truth is…Richt is a classic underachiever…which explains DaKidd's unrelenting love for him.
I mean, DaKidd loves Richt so much, you'd think Mark had pictures of him doing unspeakable things to animals. But, since DaKidd willing shows you those pics, it ain't that.
But, this isn't about how things used to be, this is about how things are today. Nick Saban protege, Kirby Smart, has his Dawgs playing at an historic level. They are 9-0 for the first time since their one and only National Championship season back in 1982.
Interesting side note, DaKidd was kicked out of his after school program in 1982 for taking action on the pee-wee football league. Rumor has it that DaKidd, who played QB for his team, was also shaving points. Although nothing was ever definitively proven, he was banned for life from competing in amateur athletics in the state of Nevada.
Not since Herschel Walker was blowing up SEC defenses has UGA been this dominant. The Dawgs are playing tough on defense, running the ball, and treating their opponents like Democrats treat women…use 'em, abuse 'em, then dump 'em.
To the chagrin of Lil Nicky Saban, Georgia has been ranked number one by the football playoff committee since their first official ranking was released a couple of weeks ago.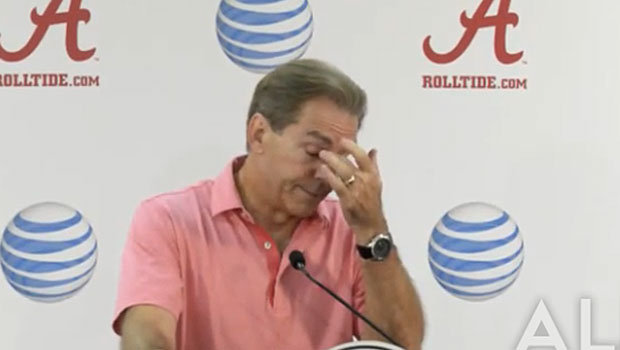 Georgia is benefiting from an early season win in South Bend over the 4th ranked Notre Dame Fighting Irish. 'Bama has yet to have a signature win, so the Committee has it right.
Georgia has already punched its ticket to Atlanta for the SEC Championship game, something Richt's team's struggled to do. Their playoff hopes are so close to being realized, they can almost taste it.
Now, they take their show on the road to face a tough Auburn team and embattled coach Gus Malzahn.
Rumors out of Auburn are that Gus's job is on the line. If he loses to Georgia, and Alabama in the Iron Bowl, he most likely will be out. So, expect the Tigers to play inspired football.
Problem is, the Tigers are lacking something. Much like DaKidd, the Tigers lack championship character. They have a lot of talent, but find ways to lose games they should win (see LSU game earlier this year).
Were it not for a fluke play a few years ago, Auburn would never have made the BCS Championship game where they lost to that crab-leg jacking, co-ed crotch plundering, NFL team disappointing…Jameis Winston and his Florida State CrimiNOLES.
Today's game will be a throwback to the SEC of yesteryear. DEFENSE, DEFENSE, DEFENSE!!! Auburn will have more difficulty scoring than DaKidd at an Amish barn raising.
The Tiger's offensive woes continue as the Bulldogs' defensive line makes life hard for Jarrett Stidham and the Auburn running game. So Gus's fingers will be sticky-free, no waffles and no Kristi for you Coach…
Georgia QB Jake Fromm throws a coming out party on War Eagle with a big 4th quarter in which he leads his Dawg's to the biggest victory in more than a decade, UGA 23 Auburn 16.